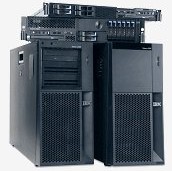 A Comprehensive Range of X86 Server Solutions
Clear Technologies delivers a comprehensive range of x86 server solutions for Windows and Linux based applications.  For over 20 years, Clear Technologies has helped companies of all sizes meet the demands of current and future business environments.  Whether it's high-end rack-mount, blade servers, or high density servers, Clear Technologies' server solutions help companies improve their IT infrastructure.
Virtual Server Solutions
Clear Technologies has helped many customers consolidate server infrastructure through virtual server solutions such as VMware, Hyper-V, and KVM.  Certified consultants at Clear Technologies perform assessments that leverage newer servers and software, lowering costs and reducing IT footprint.
Partner Services
Consultants at Clear Technologies also partner with software vendors to provide customers with Virtual Desktop Infrastructure (VDI).  VDI enables customers to manage costs by consolidating and centralizing desktops while delivering mobility and freedom to access virtual desktops anytime, anywhere, on any device.  With top-notch expertise in servers and storage, Clear is the partner to work with for all converged infrastructure services.
Why Clear Technologies
Clear Technologies' solution experts will architect, configure, integrate, and install the best combination of server, storage, networking and management solution.  Clear Technologies is also at the forefront of hyperconverged solutions and assists customers implement this emerging technology into their environment.
Whatever the application or business function being addressed, Clear Technologies helps customers improve operations at a lower cost through best of breed x86 technologies.