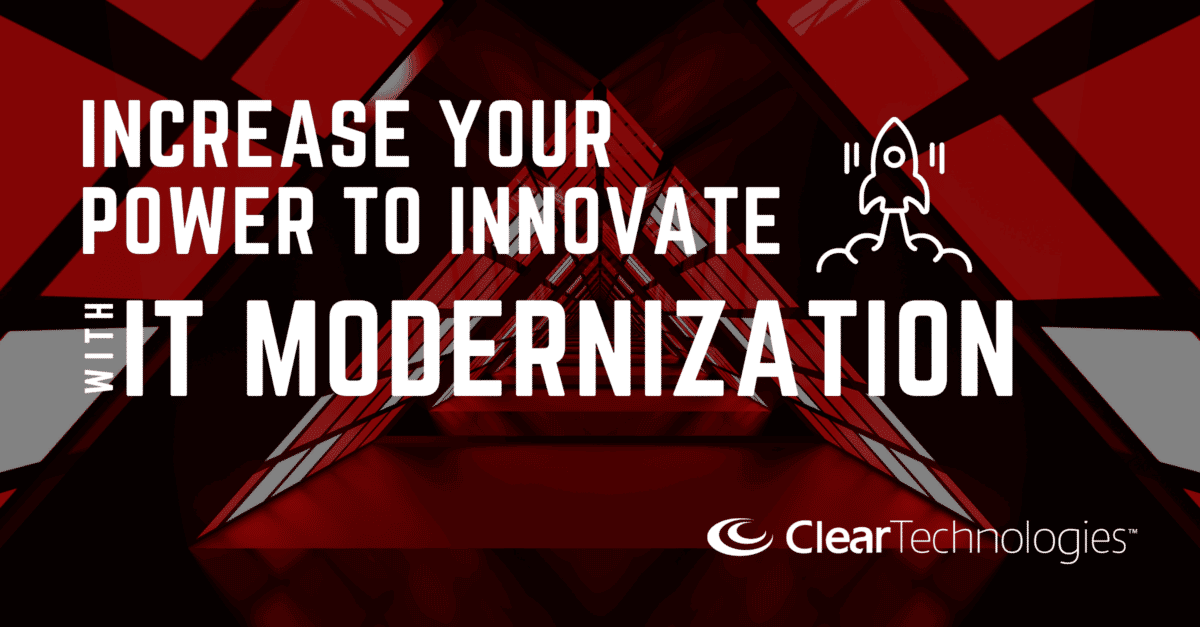 In today's fast-paced world of continuous change, IT decision-makers are being challenged to maintain existing IT systems and create a foundation for future innovation. The challenge to migrate legacy operations and adapt for the future while improving overall productivity and business performance proves difficult for many IT teams.

The goal of IT modernization is to get more out of your IT investments while freeing budget and time to prepare for the future. By shifting to modern software, platforms, and processes, you can accomplish faster delivery of software and services to meet internal and external demands. Modernization is an essential transition for success in the digital world.
Standardization
A complex IT environment requires additional time, resources, and budget to manage. Inconsistent processes impact the opportunity for growth and cause a need for reactive maintenance. Multiple platforms require increased training, support, and operational budget. By implementing a standardized operating environment (SOE) with Red Hat, you can achieve consistency across your organization. This allows IT teams to reduce costs and accelerate IT while supporting innovation.

New technologies including hybrid and private cloud connectivity, cloud-native development, and containers are supported on a modern solution. Standardization also provides enhanced security and compliance with policies and regulations. Centralizing the life-cycle management of your platform supports increased speed of installations, upgrades, and patching.
Digital Transformation
Digital transformation has many different meanings across IT environments. But one thing remains constant, all IT teams are facing the need to digitally transform their platforms, processes, and resources to maintain business continuity and adapt to evolving technology. By modernizing your IT environment, you can free up budget and resources for innovation in the age of digital transformation.

Lower your total cost of ownership and achieve a return on investment and deliver self-serving capabilities to IT users by automating processes with Red Hat Ansible Automation. Modern software not only improves IT efficiencies but also prepares you to adopt cloud-native and container-based development practices to help you become more agile. With an optimized hybrid cloud environment, you can increase flexibility and efficiency by replacing old infrastructure without downtime. 
Strategic Migration
Modernization is ongoing and requires IT decision-makers to continuously assess and migrate to new solutions with increased IT and business value. The adoption of a new technology platform poses obstacles concerning infrastructure, security, and deployment. Migrate what makes the most sense for your environment.

Red Hat OpenShift Container Platform helps you develop, deploy, and manage existing and container-based applications seamlessly across physical, virtual, private, public and hybrid cloud infrastructures. With Red Hat OpenShift, you can increase operational efficiency, enforce security and compliance standards, and ensure uptime and availability.
Red Hat Consulting
As a premier partner in digital transformation, Clear Technologies offers the expertise needed to help manage your multi-site environment efficiently and securely. Whether you are looking to automate your IT processes with Red Hat Ansible Automation Platform or accelerate application delivery with RedHat OpenShift, let Clear Technologies help modernize your IT environment.
Take the next step in modernizing your IT environment. Schedule time with a Red Hat consultant today.