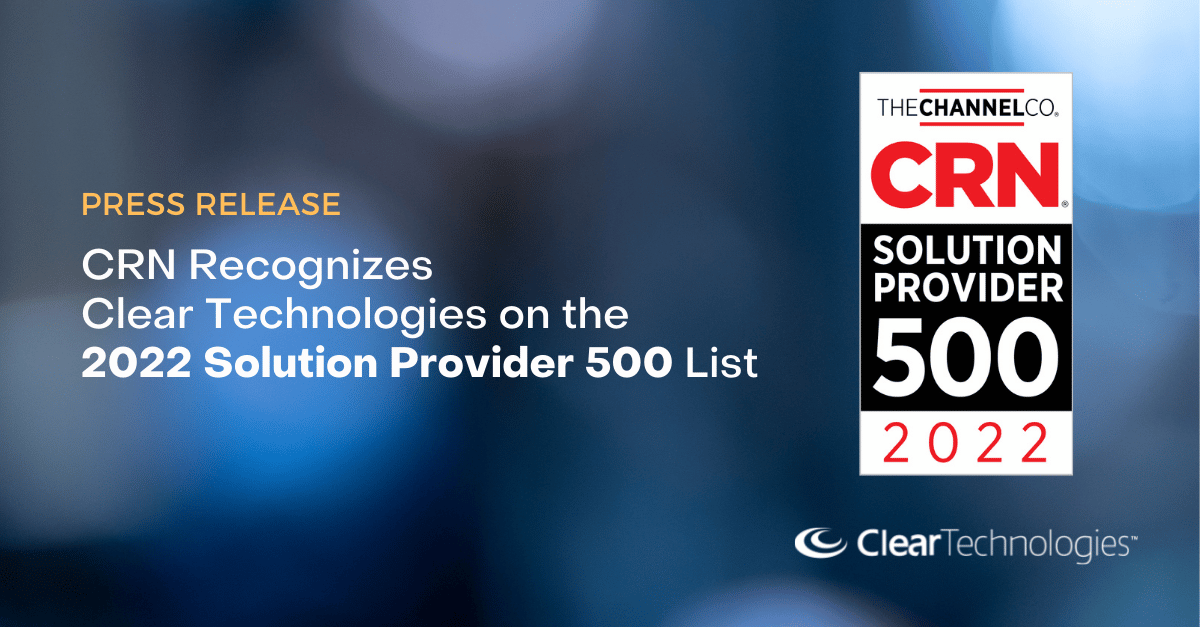 Addison, Texas, June 7th, 2022 — Clear Technologies, trusted advisors in data management, IT managed services, and cyber security, today announced that CRN®, a brand of The Channel Company, has named Clear Technologies to its 2022 Solution Provider 500 list.
CRN's annual Solution Provider 500 ranks North America's largest solution providers by revenue and serves as the gold standard for recognizing some of the channel's most successful companies. With a combined revenue of more than $434 billion, this year's list represents an impressive amount of influence and impact wielded by these companies on today's IT industry and the technology suppliers they partner with.
"We're proud to be recognized once again on CRN's Solution Provider 500 list. Clear Technologies takes pride in our services organization, it's really what sets us apart in the reseller industry. As the trusted IT advisor for our clients for nearly 30 years, we are always finding new ways to expand our services offerings", said Phil Godwin, President, and COO of Clear Technologies. "This past year we announced the addition of Capacity Planning to a long list of customized services packages. I'm excited to see how our team continues to grow and support clients with their IT optimization journey."
"The Solution Provider 500 list from CRN serves as the benchmark for the top technology integrators, strategic service providers, and IT consulting firms, making it an invaluable resource for technology vendors seeking to partner with today's top-performing IT solution providers," said Blaine Raddon, CEO of The Channel Company. "My congratulations go out to each of these companies for their extraordinary contributions to the continued growth and success of the IT channel."
CRN's 2022 Solution Provider 500 list is available online at www.CRN.com/SP500 and a sample from the list will be featured in the June issue of CRN Magazine.
About Clear Technologies
Clear Technologies partners with enterprise organizations to deliver customized IT solutions designed to increase operational efficiency. Unlike other solution providers, Clear Technologies utilizes Visual One Intelligence™ to help enterprises discover performance insights, simplify storage management processes, and increase ROI. With over 29 years of experience and a premier offering of cloud-based infrastructure and services, combined with Visual One Intelligence™, Clear Technologies is the preferred partner in digital transformation. www.cleartechnologies.net
About The Channel Company
The Channel Company enables breakthrough IT channel performance with our dominant media, engaging events, expert consulting and education, and innovative marketing services and platforms. As the channel catalyst, we connect and empower technology suppliers, solution providers, and end-users. Backed by more than 30 years of unequaled channel experience, we draw from our deep knowledge to envision innovative new solutions for ever-evolving challenges in the technology marketplace. www.thechannelcompany.com
Follow The Channel Company: Twitter, LinkedIn, and Facebook.
© 2022 The Channel Company, LLC. CRN is a registered trademark of The Channel Company, LLC. All rights reserved.
Clear Technologies Contact:
Meredith Wardell
Clear Technologies
mwardell@cleartechnologies.net
The Channel Company Contact:
Jennifer Hogan
The Channel Company
jhogan@thechannelcompany.com