UPCOMING EVENTS (Registration Below)

What would happen if there was an attack or mishap to your Office 365 environment? Can you recover confidently and quickly bring your data back online?
Join Clear Technologies and Commvault on Friday, October 8th at The Cowboys Club as we discuss the importance of backup and speedy recovery.
During this event, learn more about why Office 365 native controls are not enough, the benefits of a SaaS-delivered data protection solution for greater ransomware defense, and how award-winning Metallic Office 365 Backup comprehensively protects your valuable data living in Exchange, Teams, SharePoint, and OneDrive with immutable copy.
After the event, book a 1-hour session for a Metallic deep-dive by November 20th and receive a gift in return for your time.
Gift options include Yeti Cooler, Solo Stove, or Arlo Camera System.
*Limited Seating*
IBM Power10 – The Next Generation of IBM Power
Join us on Sept. 23, 2021, at the Capital Grille to meet, greet and listen in as Phil Godwin, President and COO, Clear Technologies, presents the next generation of IBM Power ­– the Power E1080.
In a continually changing environment, organizations need to automate and accelerate critical operations, ensure 24/7 availability and stay ahead of cyber threats. That means implementing business-critical enterprise-grade applications and data analytics, but without adding complexity and cost.
Introducing Power10.
Power10 delivers the essential enterprise hybrid cloud platform to help you efficiently scale core operations and artificial intelligence (AI) applications anywhere in a hybrid cloud. Encrypt data without management overhead or performance impact, plus:
· Attain sustainable, scalable compute
· Protect trust with persistent security from core to cloud
· Deliver continuous availability on the industry's most reliable server
· Drive insights faster with AI at the edge
Ready to discover the next generation of IBM Power? RSVP today. We look forward to a great conversation.
Future-Proof Your Storage Environment
Join Clear Technologies and IBM for a luncheon event at Dee Lincoln Prime on September 14th at 12PM as we host special guest, Eric Herzog, for an overview of proactive optimization for your storage environment.
Discover the latest offerings from IBM, including the benefits of the Storage as a Service model. Plus, hear from Clear Technologies President & COO, Phil Godwin, about the newest Capacity Planning as a Service offering in partnership with Visual Storage Intelligence.
IBM Storage as a Service:

Flexible, Scalable Storage
Hybrid Cloud
Data Security
Lifecycle Management

Capacity Planning as a Service:

Storage Capacity Analysis & Recommendations
Fast Reporting
Risk Detection
Human Intelligence
Take Action Against Ransomware Attacks
Cybercrime and Ransomware are threatening businesses of all sizes and putting informational assets at high risk.
When an attack happens, are you prepared?
Join Clear Technologies and Pure Storage experts for a critical discussion about your company's security journey. Learn cybersecurity best practices for building a data protection strategy and minimize the effects of a ransomware attack.
Give It A Shot: Target Shooting & Happy Hour
Learn what it takes to hit the target with your cybersecurity resilience strategy and prevent ransomware attacks. IBM's advanced technologies help defend you against security risks, protects your business-critical applications and data, and helps accelerate recovery from a data breach.
Defense Strategy:
– Immutable Storage
– Air-Gapped Protection
– Data Configuration
– Managed Services
Data-Driven Expertise For Your Global Data Center Solution
Learn how to increase the ROI on your data center equipment by extending the life of your original investment and maximize the benefits of third-party maintenance. You have the option to keep your server, storage and network equipment well past its EOL and EOSL date without paying premium OEM maintenance rates or risking downtime.
Partnering with a third-party maintenance provider can assist you by:
Providing flexible coverage to optimize your infrastructure strategy
Cutting IT costs by 50-70%
Automating your ticketing and monitoring workflows
Upgrading your hardware performance with consultations, hardware solutions and more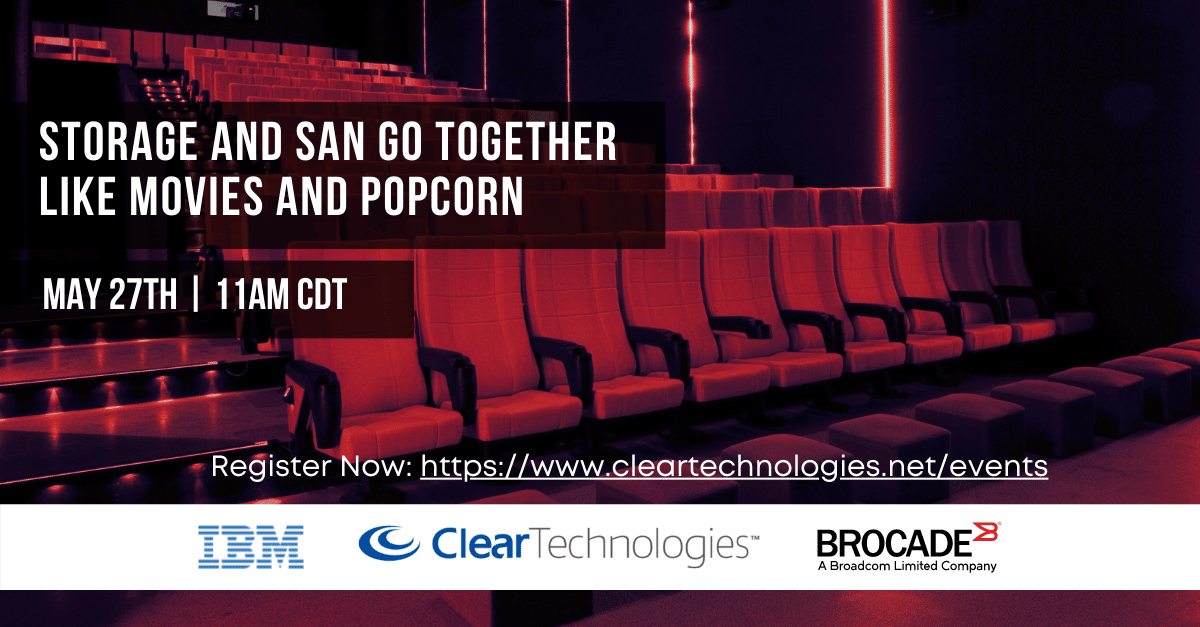 Storage and SAN Go Together Like Movies and Popcorn
New applications such as Machine Learning, AI and dynamic transaction processing demand extreme performance, with greater transactions per second and consistently low latency. Discover how the latest IBM FlashSystem and Gen 7 SAN solution delivers the critical storage infrastructure requirements you need in preparation for the next decade.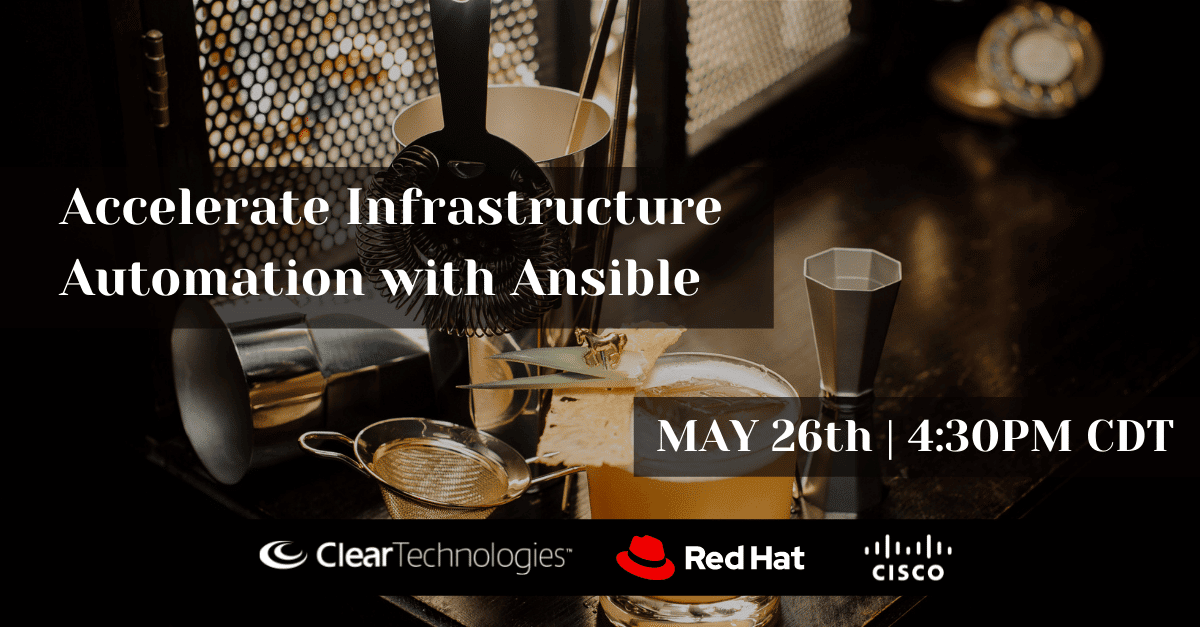 Accelerate Infrastructure Automation with Ansible
The Ansible integration with Cisco platforms enables customers to take advantage of programming and automating the infrastructure at scale with speed. By integrating Red Hat Ansible automation with their Cisco infrastructure, clients can erase security and compliance issues by cutting out human contact and error.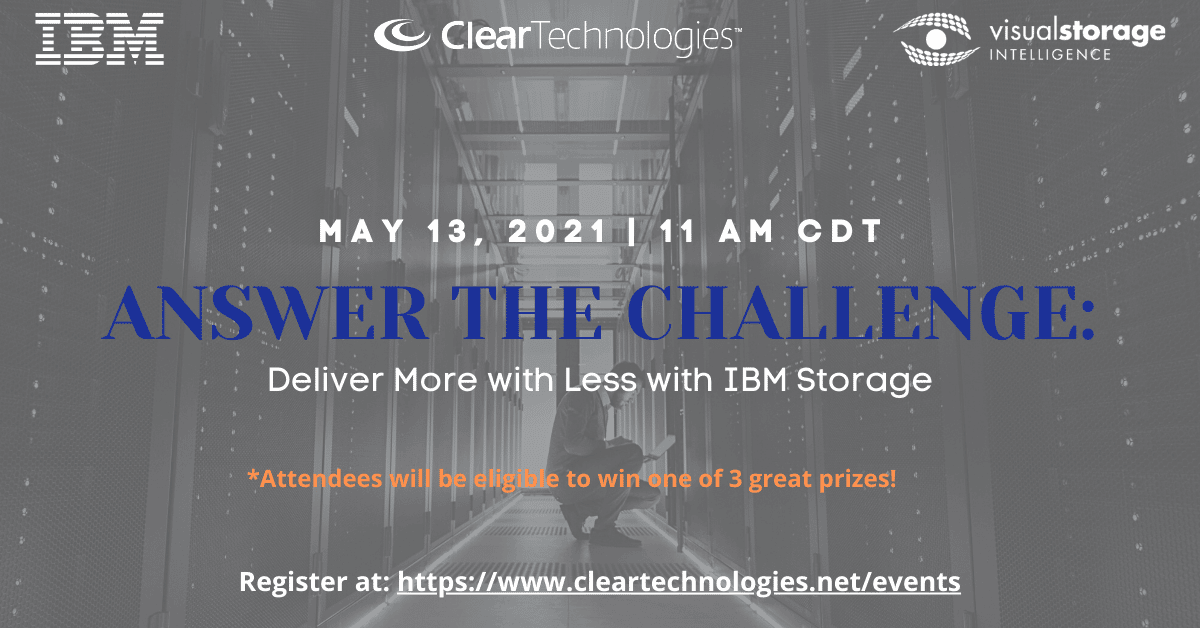 Answer the Challenge: Deliver More with Less with IBM Storage
You need to optimize your hybrid cloud, core data center, and containerized environments to deliver strong value for the company while still getting the most in performance, reliability, availability, and data resilience for your storage estate.
See how IBM Storage and Clear Technologies are delivering on that promise with the new FlashSystem. The FlashSystem everything you need to address infrastructure transformation, but it also delivers a payback on your investment of only 8 months.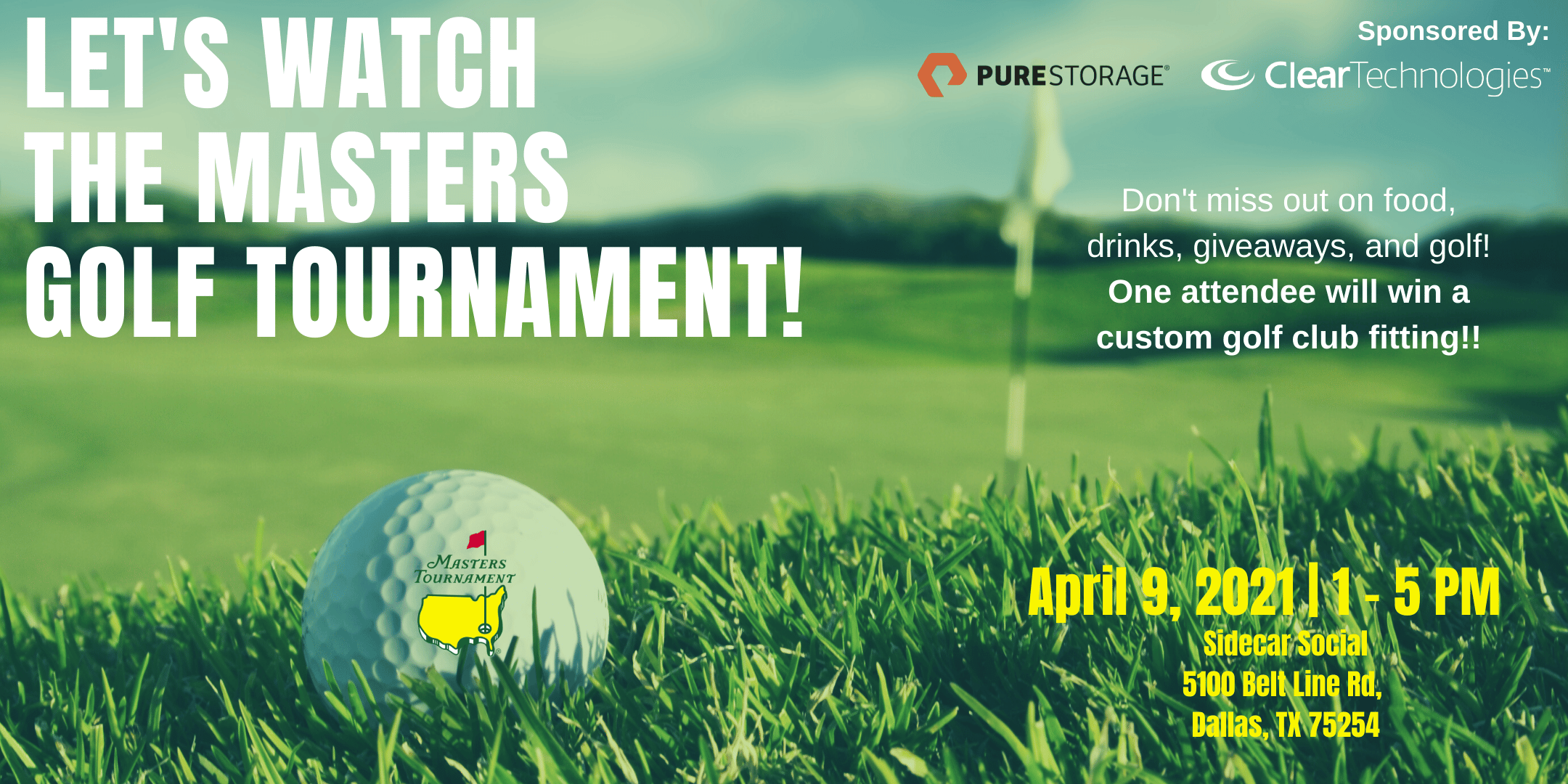 Let's Watch The Masters Golf Tournament
Join Clear Technologies and Pure Storage as we watch the Masters Golf Tournament!
Don't miss out on food, drinks, giveaways, and golf! One attendee will win a custom golf club fitting!!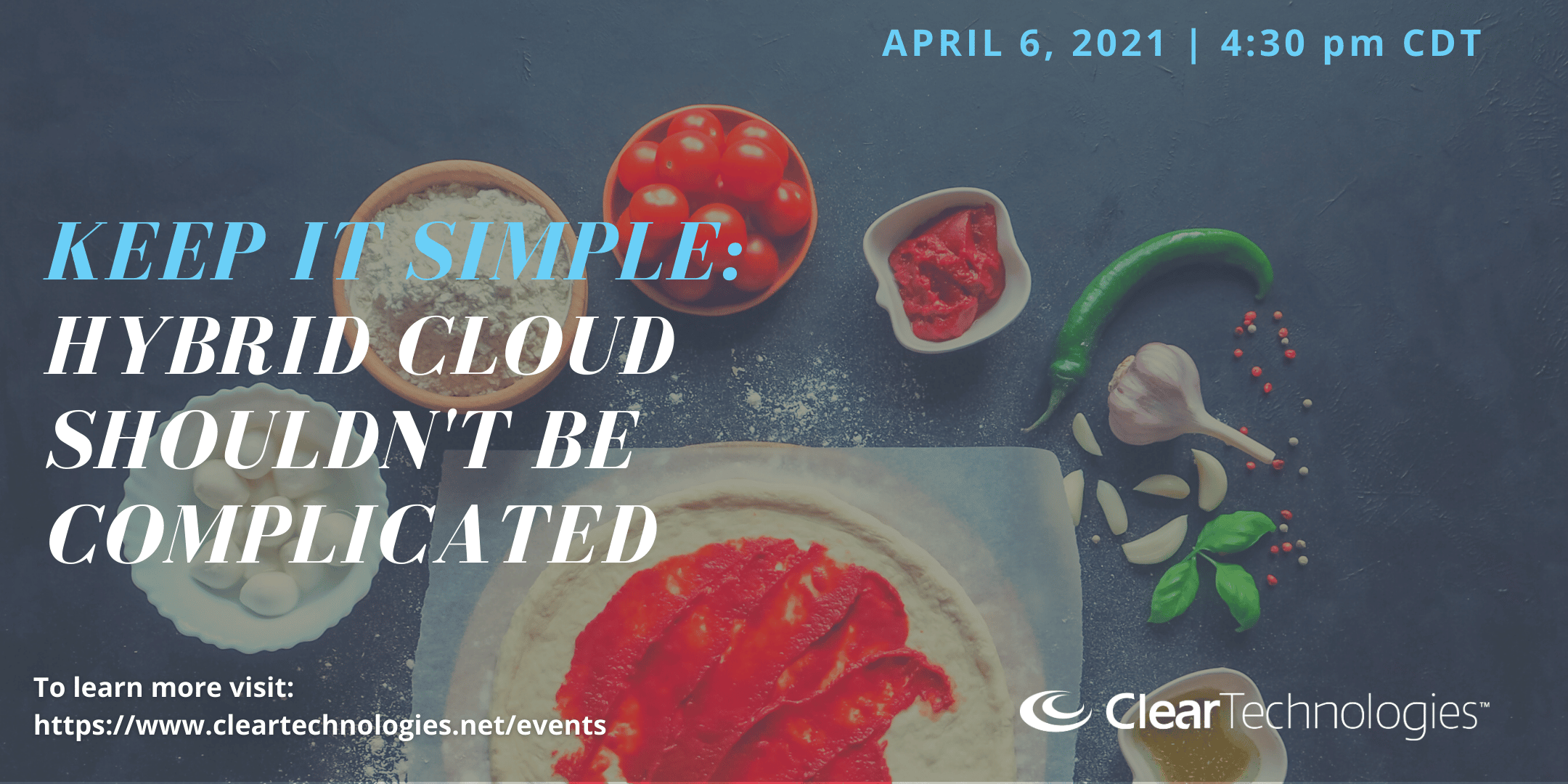 Hybrid Cloud Shouldn't Be Complicated
In today's economic climate, hybrid cloud is the IT environment you need to embrace to get the agility, digital transformation, and modernization you need to push your business forward.
IBM Storage delivers a radically unique approach that drives unparalleled innovation in a single storage platform that seamlessly moves your data from on-premise to your hybrid cloud environment.
Join IBM, Clear Technologies, and Chef Kyler to learn how IBM to create the perfect combination for your digital transformation and pizza skills.