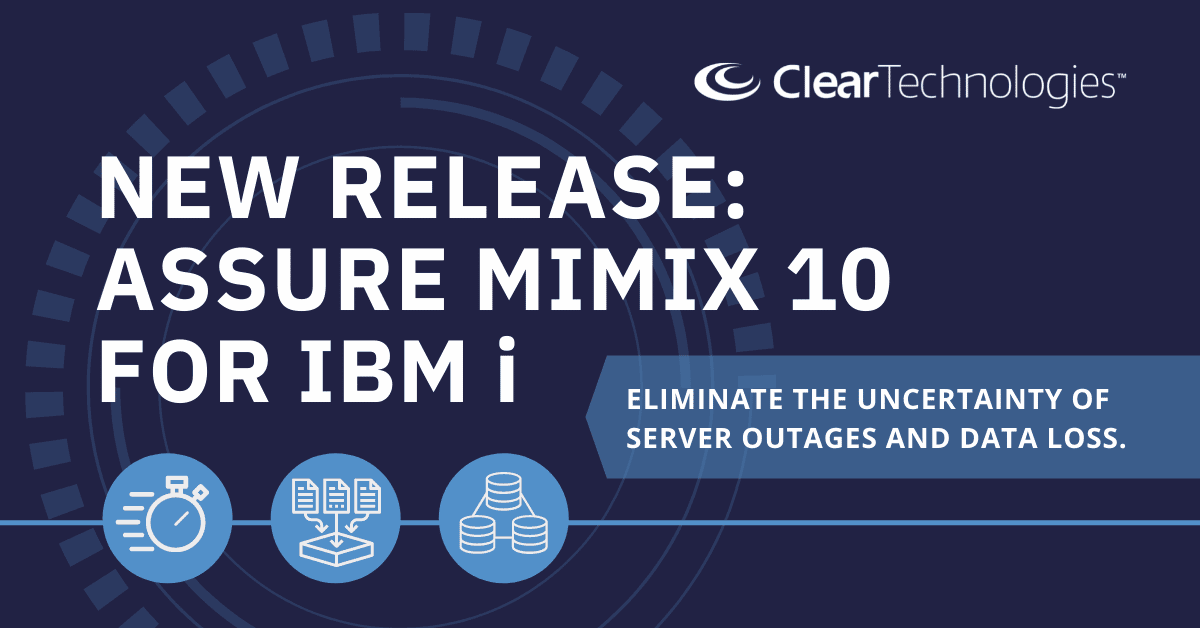 Precisely recently launched the latest IBM i HA and DR product, Assure MIMIX 10. In a press release, Precisely highlighted new capabilities including the ability to expedite data recovery by replicating data to production servers in near real-time – resulting in better protection for businesses from the high costs associated with downtime.
Clear Technologies specializes in helping clients run Assure MIMIX 10 for IBM i systems. With a wide range of services including implementation, health checks, MIMIX audits, role-swap services, and more, Clear Technologies is recognized by Precisely as a leading solution provider for Assure MIMIX 10.
SPEAK WITH OUR ASSURE MIMIX 10 EXPERT!
Assure MIMIX 10 provides 4 valuable benefits for businesses with IBM i:
Helps eliminate downtime with flexible, scalable, and automated replication, and failover

Prevents data loss through maintaining real-time replicas of data to on-premise, hosted, or cloud environments

Automates administration of high availability and DR with simple interfaces

Provides workload balancing and enhances IBM i mirroring solutions
Automation is key with the latest release of Assure MIMIX 10. With new automation capabilities, users can automate reliable configurations to run the product with minimal manual intervention.
"Clear Technologies, a leading solution provider of IT consulting, server, storage, and software products, welcomes these new updates: 'Customers running Assure MIMIX on IBM i with a dynamic journal environment will greatly appreciate the automated journal-driven configuration support. Configuration is simplified, and dynamic changes to the journal environment are automatically handled, resulting in greater confidence in the replication environment,' said Neil Clark, Technical Consultant at Clear Technologies." – Precisely

"As a service provider for many customers running IBM i high availability solutions, the automated journal-driven configuration support in Assure MIMIX 10 will really help make our job easier," said Neil Clark, Technical Consultant at Clear Technologies.
REQUEST AN ASSURE MIMIX IBM i HEALTH CHECK!
Clear Technologies' team of IBM Champions works with clients to ensure Power systems running IBM i are fully prepared for disaster recovery. With our Assure MIMIX IBM i Health Check, you will gain critical insight into the performance, replication, and recovery abilities of your IBM i system.
Ensure your Power system running IBM i is fully prepared for disaster recovery, speak with an Assure MIMIX specialist today!