July 8th | 11 AM CDT
Striking a Balance Between Financial Strategies and Technical Decisions:
Meeting the Moment: How IT Directors Can Ensure IT Continuity Post Pandemic
A recent survey by Evaluator Group found that IT departments are presently in "react" mode – scrambling to meet the needs of an increasingly remote workforce.
Join us on July 8th at 11 am CDT as John Webster of the Evaluator Group provides insights, including how a specific form of flexibility is key to post-pandemic workplace requirements.
About Our Speaker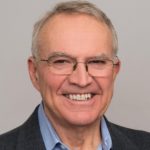 John's focuses at Evaluator Group include Hybrid Cloud and Big Data. John became interested in Big Data in 2004 when he co-authored a book entitled Inescapable Data: Harnessing the Power of Convergence, which is an early look at what is now known as IoT. John also writes for his blog "Inescapable Data" on Forbes.com. His blog focuses on trends and announcements in cloud and Big Data.