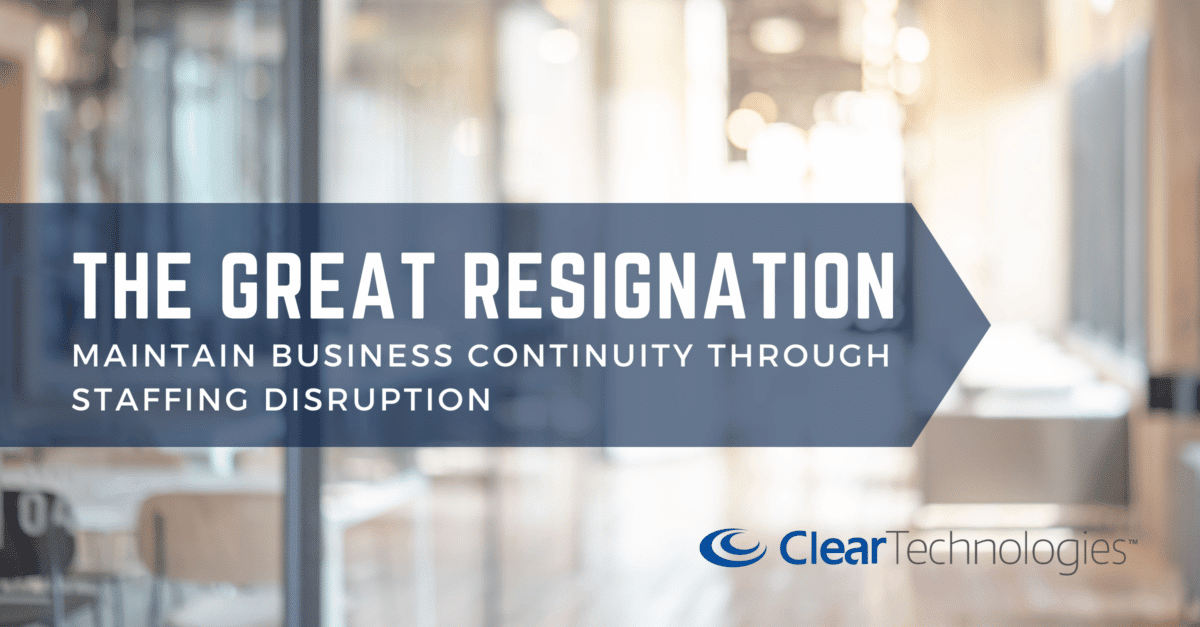 "I'm quitting", "two weeks' notice" and other terms related to an employee resigning can be the worst phrase a manager hears. But it's happening all too often with a surge of people leaving their current jobs for new opportunities. Corporate America has been experiencing a movement termed 'The Great Resignation' since mid-2021 and there are no signs of it trailing off.
Staffing disruptions are happening at a high rate, especially in the healthcare and technology industries. With a constantly evolving landscape, IT jobs are opening left and right. IT leaders are faced with the challenge of keeping the team members they have, filling open positions and maintaining normal workloads to keep the business running as usual. How does an IT team survive the spiraling effect?
IT leaders need a reliable solution for keeping infrastructure operations running smoothly during a staffing transition. Understanding your current environment and increased capacity needs for business growth is imperative to finding the best solution for maintaining business continuity. A trusted IT advisor can establish recommendations for implementing and maintaining data center projects including migrations, monitoring tools, plus regular maintenance and support services.
Managed Services
In the event of a staff departure or support gap, working with a Managed Service Provider ensures your core business applications continue running smoothly. With operational services like daily job queues, monitoring, capacity planning, and virtualization management, Clear Technologies' service experts are an extension of your IT team. Data protection services including Backup and Recovery and DRaaS safeguard your systems in the unfortunate event of a breach.
Clear Technologies offers health checks and assessments for IBM i to ensure your environment is current. As your trusted advisor, our experts make recommendations for cost optimization and architectural services to improve availability and decrease unplanned downtime. With flexible SLAs, we offer a fully customizable services package to meet the current and future needs of your IT team.
Hybrid Cloud
As an organization with an evolving IT landscape, migrating to the cloud is a major undertaking for internal IT teams. Clear Technologies has an extensive partner ecosystem to bring flexibility and scalability to your hybrid cloud solution. With cloud-based services, our experts provide consulting, migration services, and monitoring for your cloud environment. This allows your team to focus on higher priority projects and trust the administration needs are taken care of in the event of a staffing disruption.
Storage Monitoring & Capacity Planning
Implementing a storage reporting and capacity planning tool helps your IT team fully optimize your storage environment and improve budgeting accuracy. With Visual Storage Intelligence, you can trust that storage management won't fall to the wayside during a turnover gap. VSI collects and displays all of your storage infrastructure data into one dashboard including performance, capacity, and utilization. Not only does this give you the ability to reclaim space, but you can also improve data accuracy and prevent unnecessary purchases.
With consolidated alerting, VSI warns you of any anomalies – helping prevent shortages, outages, and even security breaches. Visual Storage Intelligence provides expert insight into your storage environment with comprehensive email reports from a VSI expert who knows your organization and storage environment.
Confidently maintain business continuity with help from Clear Technologies. Find out what solutions are best for your IT environment by speaking with one of our technical advisors today! Learn More.