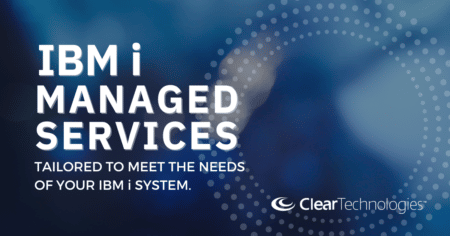 New year, new you… right? Your company has big expansion goals for 2022, but you're stuck with the same resources you had last year. How will your IBM i environment maintain peak performance and evolve to accommodate new needs for your organization?
We're here to help you understand the needs of your IBM i environment and build a customized service approach to not only enhance the capabilities of your internal staff but also fill the gaps of IBM support.
Where do you start? Step one is to gain valuable insight into your IBM i system. Our IBM i Health Check provides a comprehensive overview of your IBM i environment. With this assessment, our IBM experts examine the vulnerability, accessibility, and reliability of your IBM i system. Gain the assurance of knowing the current state of your system and proactively identify infrastructure issues. Plus, create a plan for future expansion to meet the needs of your company's growth initiatives.
A complete check-up reviews the following:
Hardware & Software Problems

System Connectivity Issues

Fix Level

IBM Library Capacities

Output Queues

Journal Receivers

Outdated Software Products

Backup/Recovery Strategy

User Profile Status

System Value Settings
Once the IBM i Health Check is complete, a full executive review document is presented to you with recommended improvements for your system. Our IBM experts take into consideration the necessary improvements paired with anticipated enhancements needed to accommodate future capacity growth. Receive a comprehensive plan of action for your IBM i environment without taking your internal staff away from their normal workloads.
A tailored service plan customized to meet the needs of your system.
Clear Technologies offers a robust managed services program for IBM i environments. Implement a fully customizable service plan to augment IBM support gaps while saving time and money. Our clients have seen an overall savings of 40% compared to the cost of internal staffing. As your IBM i trusted advisor, Clear Technologies helps you build an IT strategy that increases ROI and lowers TCO.
Confidently manage your critical business applications and free up your IT teams with Clear Technologies IBM i (iSeries, System I, AS/400) managed services. Support for the full IBM i stack includes infrastructure, software, operations, data protection, business continuity, and security.
For a limited time, we are offering a FREE IBM i Health Check ($5,000 value). Take advantage of this complimentary service and learn more about the full suite of IBM i Managed Services options from Clear Technologies.