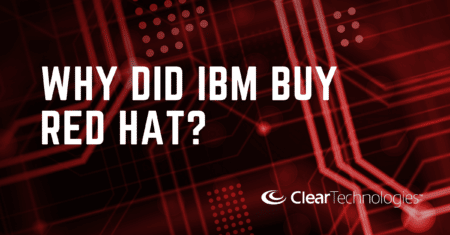 At $34-billion, it's the biggest software acquisition ever. So, why is IBM spending so much money on Red Hat? The reason is twofold. First, it's about positioning IBM as a cloud power. And, second, it's about investing in open source. The two are intimately connected.
Except for Microsoft Azure, the cloud is built on Linux and open-source software. Oh, and Azure? Linux virtual machines (VM) now make up half Azure's workloads. Many of those, by the way, are Red Hat Enterprise Linux (RHEL) VMs.
IBM has a long history of working in open source. In fact, in many ways, IBM is partly responsible for the open-source movement's success. IBM's strong support for Linux—with patent pledges and investment of significant technical resources in the face of some of the legal uncertainty surrounding its use in the late 1990s—brought about a change in posture toward open-source for many enterprises.
"The acquisition of Red Hat is a game-changer. It changes everything about the cloud market. IBM will become the world's #1 hybrid cloud provider, offering companies the only open cloud solution that will unlock the full value of the cloud for their businesses," said Ginni Rometty, IBM CEO.
Senior VP and president for IBM Hybrid Cloud Arvind Krishna has also said that while the world is keen to move to cloud computing, most customers are running multiple clouds and are only 20% or so into their cloud journey. The next stage is for real businesses to move real business applications to the cloud and be able to move and deploy applications and services between their multiple cloud environments.
IBM wanted Red Hat for it's development of what is the world's largest portfolio of open source technology; a hybrid cloud platform and a vast open-source developer community. Together, the two companies effectively become the world's leading hybrid multi-cloud provider.
Red Hat will now join IBM's Hybrid Cloud team as a distinct unit. The companies claim that this will 'preserve the independence and neutrality' of Red Hat's open source development heritage and, importantly, Red Hat's development culture. Red Hat will continue to be led by Jim Whitehurst and Red Hat's current management team.
Learn more about Clear Technologies' Red Hat consulting services. 
What does containerized apps have to do with it?
Experts say IBM's acquisition of Red Hat opens a new dynamic in the cloud wars between IBM, Google, Amazon, and Microsoft. It gives IBM added muscles in the enterprise hybrid cloud space, and it opens up a large conversation around containerized apps and microservices infrastructure. 
Both IBM and Red Hat are strong in key hybrid cloud technologies such as Linux, containers, Kubernetes, multi-cloud management, and cloud management and automation.
IBM has acquired a great foundation with Red Hat's OpenShift, a container app platform by Red Hat built on Docker. IBM acquired two important things through OpenShift, according to Randy Heffner, an analyst for Forrester. As big as cloud is, many applications are still running on-premises because they are hard to move. There are also security or data residency concerns. "OpenShift gives IBM a story to tell for on-premise-to-cloud migration — or simply hybrid cloud/on-prem operations of containerized apps and microservices," Heffner said.
Further, doing high-end microservice-based solutions today is rocket science, and having control of OpenShift will give IBM a leg up on crafting what one might call the "app server" for microservices, he added.
"IBM will be the leader when this deal with Red Hat is realized, though others have some toes in the water on it. Google recently announced an on-premises version of its container engine. Google is managed on your hardware, but IBM can do that, too, and will have a wider range of deployment options, including being completely customer-managed," Heffner said.
With the acquisition of Red Hat, we look forward to IBM and its continuing development of becoming the world's number one hybrid cloud provider.
Clear Technologies is excited about this acquisition as both a partner of Red Hat and IBM. We are partnering with end-user companies large and small on the next generation of Information Technology.   This announcement is part of the ever-changing landscape of the future of hybrid IT.  Contact us today to discuss how this announcement could benefit your Cloud and Container strategy, or read more about finding the right cloud solution for your organization.